Load Frames
Karol-Warner load frames are designed to be versatile and when outfitted with test specific components can be used for a wide variety of soil and asphalt testing applications. The units are equipped with an 8in diameter platen, 14 gauge painted steel enclosure, and an adjustable horizontal cross-head in order to accept a wide range of sample sizes.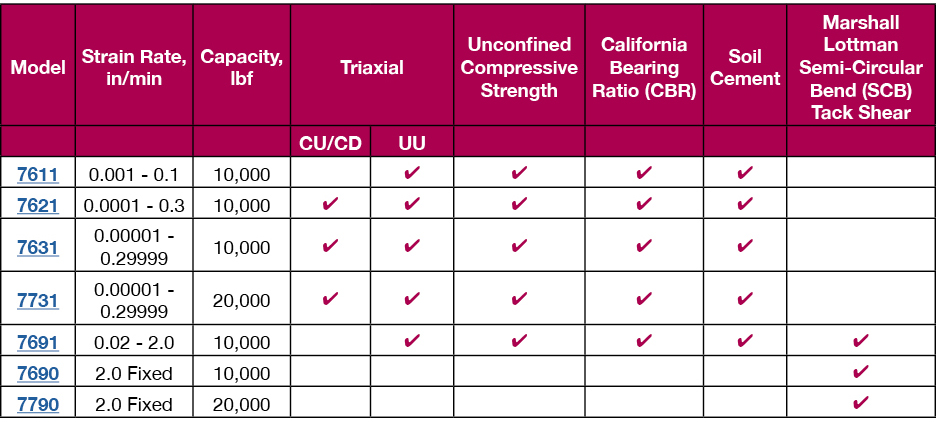 Click the Comparison Table above to enlarge, print, or download. The table indicates force capacity and strain rate for common geotechnical testing applications.
Load Frames for soil testing reflect Karol-Warner design goals, which are aimed at the intersection of quality, versatility, and value.
To perform Triaxial Shear Strength tests, Karol-Warner has a variety of models available for your test lab. Once you've selected the desired unit, navigate to Load & Displacement Measurement for components like load rings, load cells, data readouts, dial indicators, and displacement transducers. For efficient preparation of specimens, you can find triaxial testing equipment like porous stones, O-Rings, and latex membranes under Triaxial Cell Accessories, and wire saws for trimming soil samples under Triaxial Sample Preparation.
To perform Unconfined Compressive Strength tests, choose from the units that offer the force capacity and speeds compatible with this test. Along with our wide selection of load rings and load cells, we offer data readouts and displacement transducers, as well as a dial or digital displacement indicators.
For laboratory California Bearing Ratio (CBR) tests, select an appropriate model from our CBR Load Frames before moving on to the corresponding components. Karol-Warner offers penetration pistons that meet both ASTM and AASHTO test requirements. Measurement components such as load rings and load cells, dial indicators, displacement transducers, and readouts are all available for determining load and displacement in specimens.
Select models can be configured for asphalt testing including Marshall or Indirect Tensile (Lottman).